* $ All prices shown are EX GST, EX Shipping
Hermetically sealed monitoring prism.
Anodised aircraft-grade aluminium assembly.
Prism Ø 25mm, Outer housing Ø 60mm, L-Bar 75x75mm, Mounting hole Ø 10mm, weight 220 grams
Distance range up to 2,000m (depending on atmospheric conditions).
***For Trimble users, issues can occur if copper-coated prisms with anti-reflection coating are used with SX Series instruments.
While there is no issue with the copper coating, the anti-reflection coating on the front of the prism is optimised for Leica EDMs which use a wavelength at 0.85µm and 0.66µm, as opposed to the wavelength of the Trimble SX Series EDM, which is at 1.55µm, thus the front reflection is larger.
Others Also Bought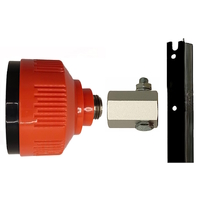 Monitoring Prism, Ø 64mm, with adapter & bolt for
$128.00
More From This Category