* $ All prices shown are EX GST, EX Shipping
High strength, zinc plated, carbon steel nails with washer.
Manufactured to the same specs as the original Australian micky pins.
Length: 15mm. Shank Ø: 2.5mm. Flat head Ø: 4mm. Washer Ø: 9.5mm
Designed to be hammered into medium strength concrete.
Caution: Always wear eye protection when using concrete nails. Always strike the nail head squarely with the hammer face.
We Also Recommend
More From This Category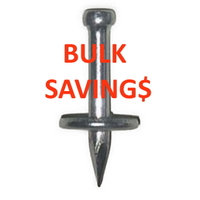 Concrete Nails (Micky Pins) 20mm 5,000pc - BULK S
$400.00